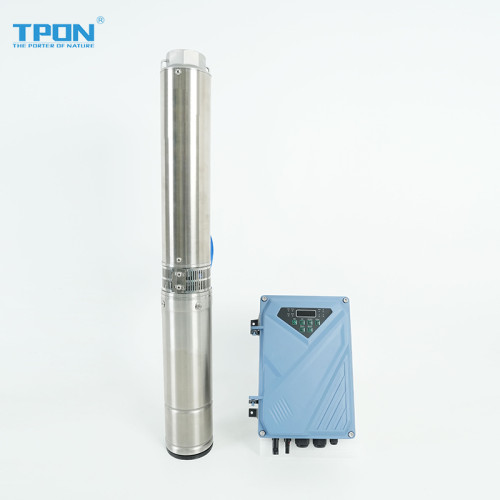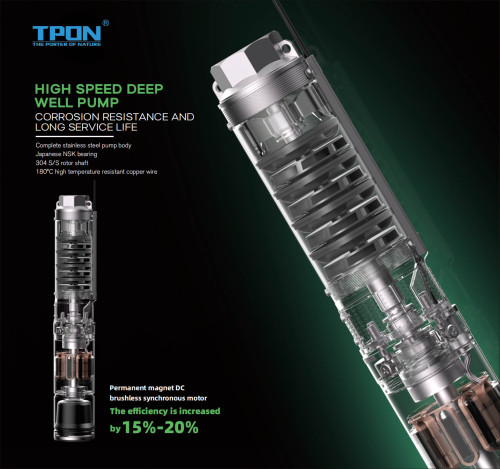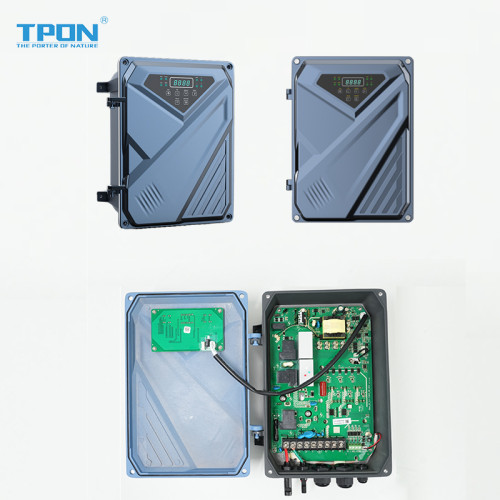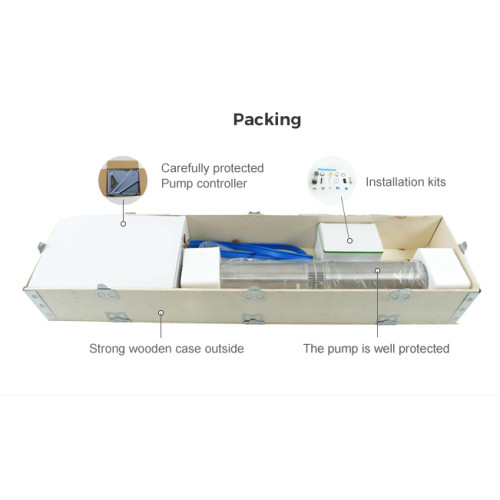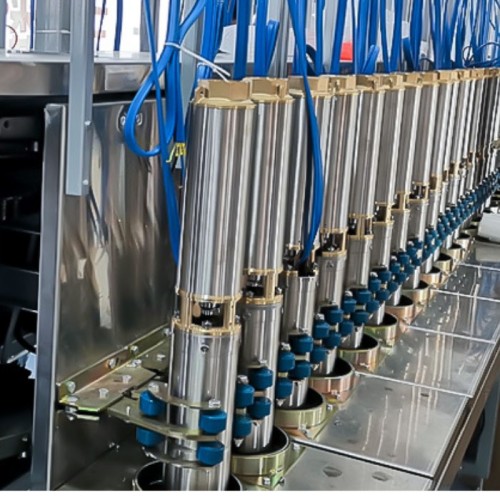 4 Inch High Speed Deep Well Submersible Pump for Irigation | Manufacturers Support OEM ODM
Item specifics
Material

Stainless steel
Type

4 Inch High Speed Deep Well Pump
Warranty

2 years
MOQ

1 set
Description
Advantages of High Speed Deep Well Pump:
1. Permanent magnet DC brushless synchronous motor: The efficiency is increased by 15% - 20%, saving energy consumption.
2. The whole 304 stainless steel rotor shaft avoids the risk of shaft breakage.
3. 304 Stainless steel outlet/connector/ oil cylinder, with better corrosion resistance.
4. Japanese NSK bearing, longer working life.
5.Two deep groove ball bearings are used at the upper end, and two angular contact bearings are used at the lower end, which can withstand greater radial force and axial force.
6.Two silicon carbide-impregnated graphite mechanical seal of Italian brand, longer service life and deeper submerging depth.
7.180°C high temperature resistant copper wire, insulation class F.
8. Cold rolled 600 silicon steel sheet stator and rotor.
9. The magnet is made of 40SH NdFeB(neodymium iron boron), with a temperature resistance of 150°C
10.304 S/S pump shaft, impellers adopt whole-stage floating wear-resistant and sand-resistant structure.
11. The whole pump is small volume and strong power, saving the pump installation cost into the well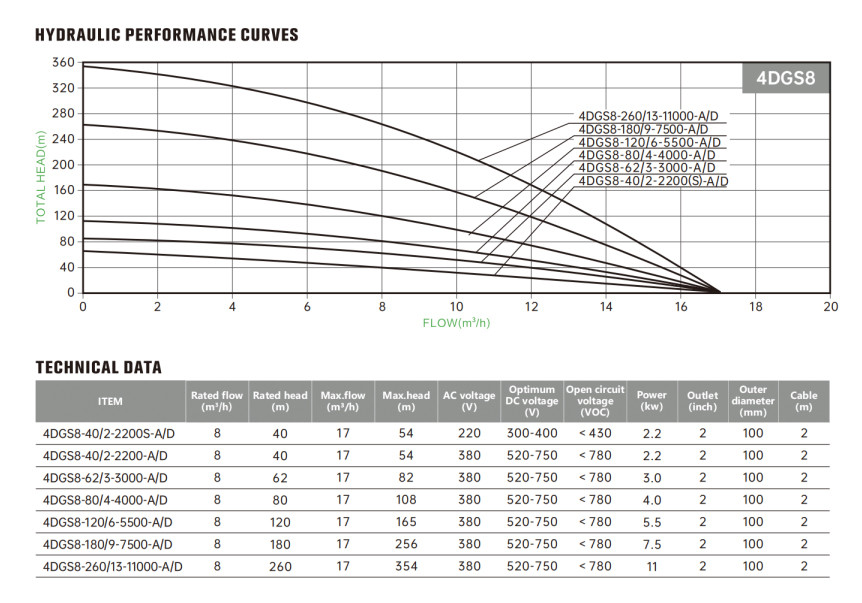 Applications of Solar Water Feature Pump Kit:
1. Solve domestic drinking water
2. Small scale service industries
3. Agriculture and garden irrigation
4. Low flow solar water pump
How to Choose the Correct Solar Powered Water Filter Pump?

Head Calculate:
1. Distance of 'B+C+D/10' if have a water tank
2. Distance of 'B' if without water tank
Flow Calculate:
How much water per hour or per day do you want?
Selecting the solar pump model that meets your requirements against the pump model number table.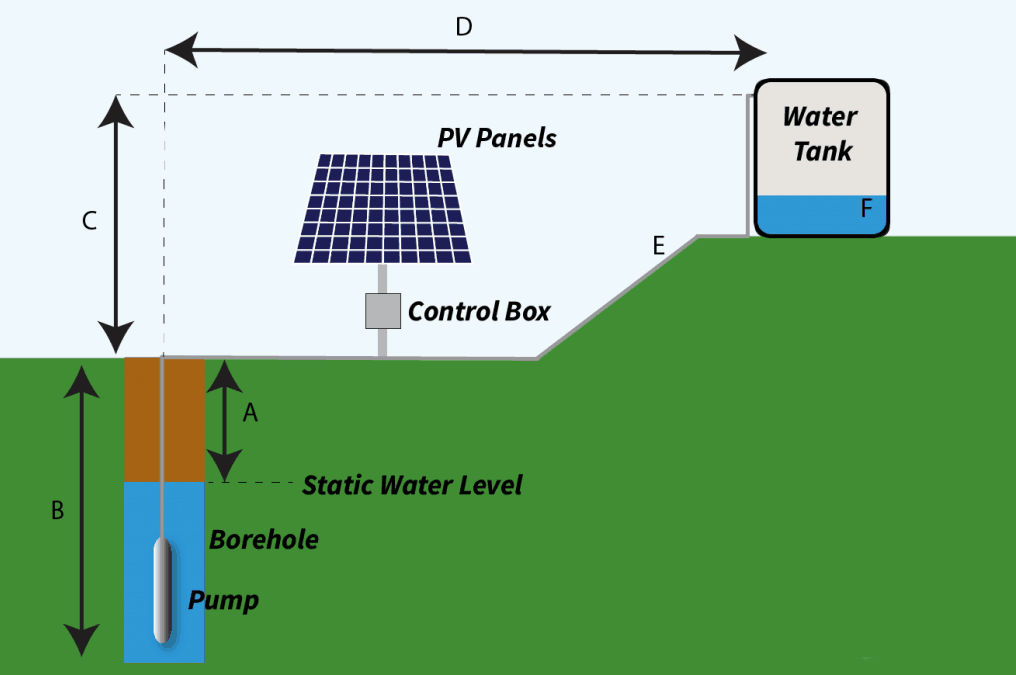 How to Connect the Solar Water Pump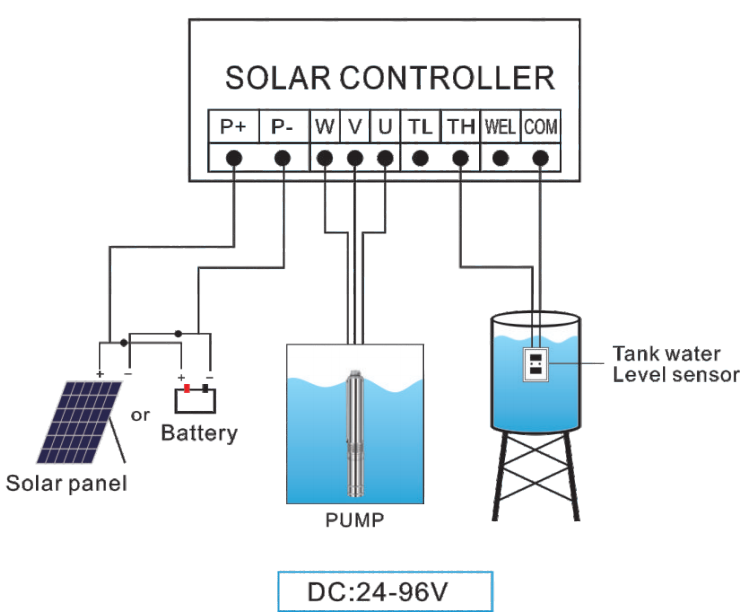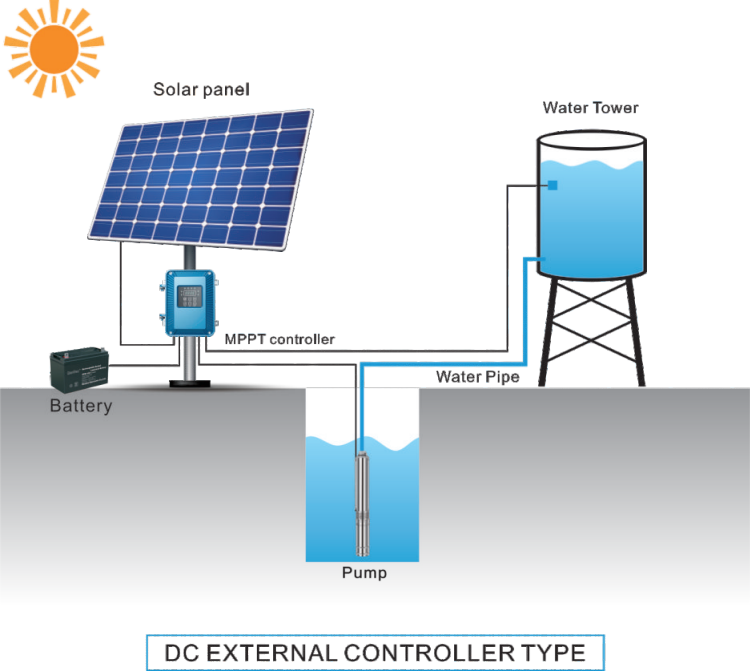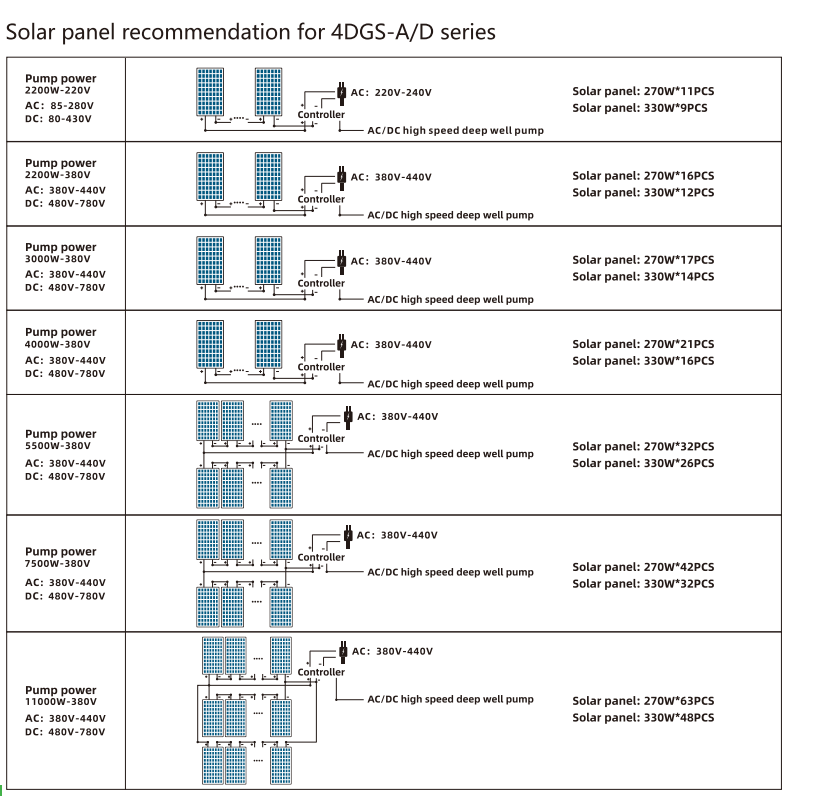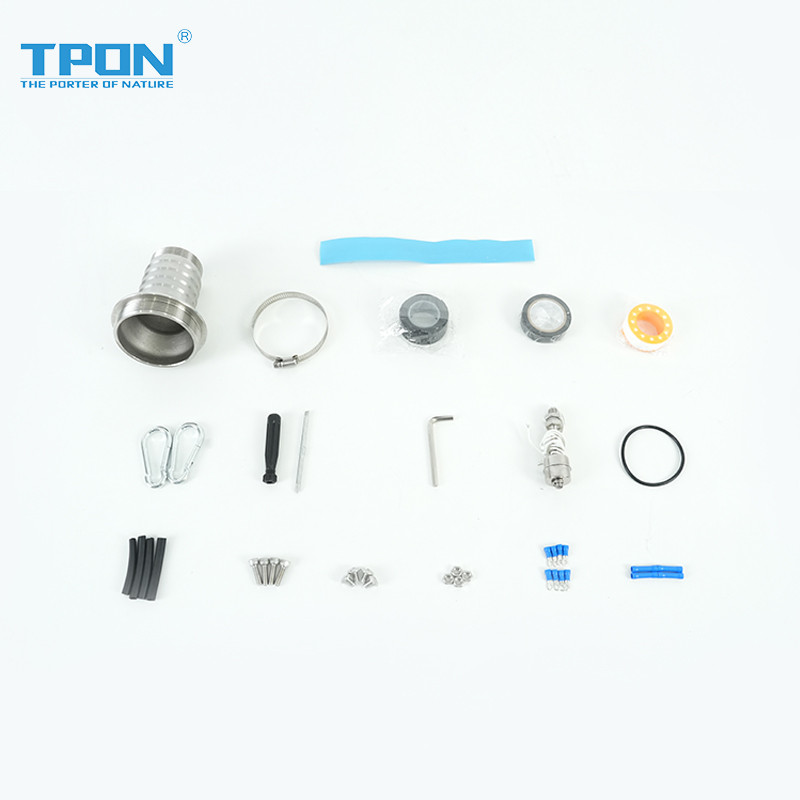 A set of specifications (Package include):

AC DC brushless solar Pump with 2m cable *1
Pump controller with MPPT function*1

Installation kit bag*1 (Include teflon tape,insulation tape,heat-shrinkable tube,screwdriver,screw and nut,connection terminal)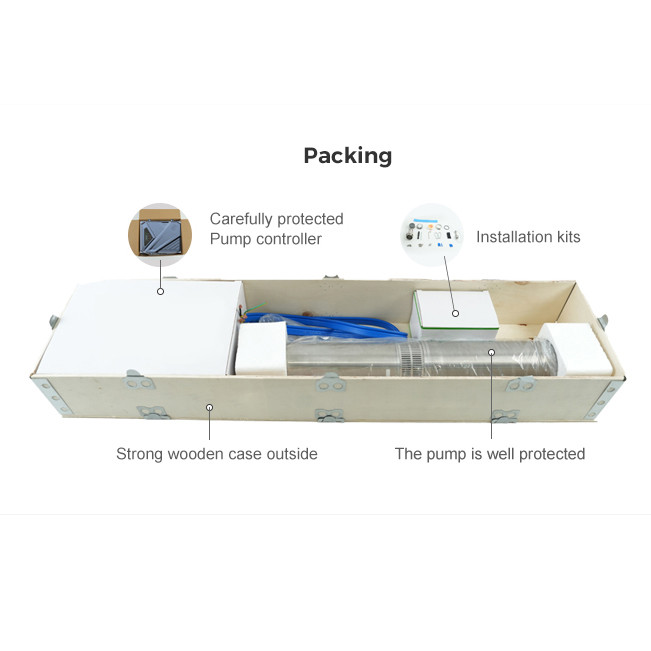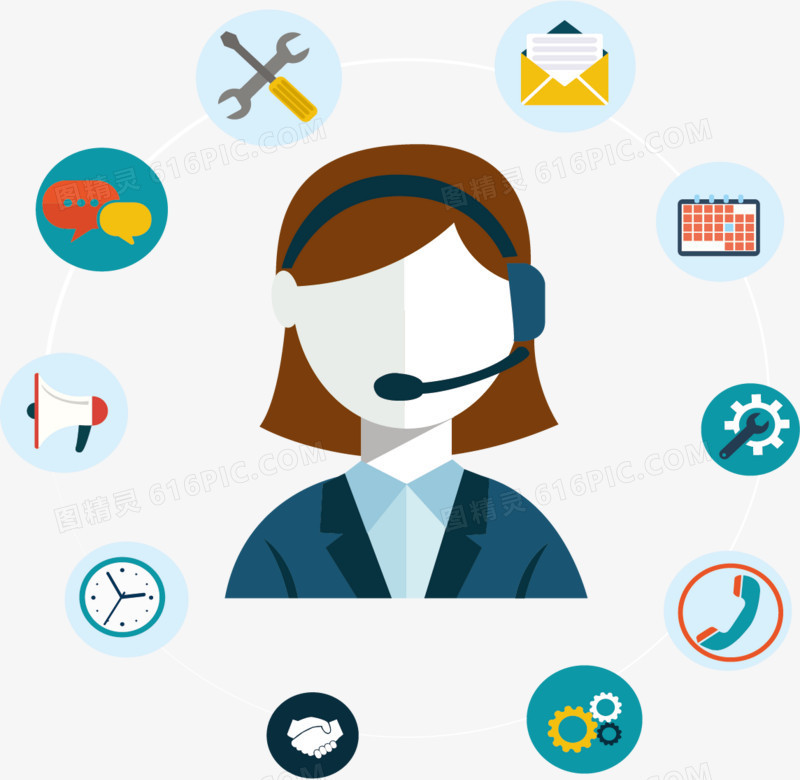 1. We provide 2 years warranty for high speed deep well solar pumps and MPPT controllers.
2. We will recommend the suitable solar panels for each solar pump.
3. Any installation question, we will provide the connection diagram or installation video for your reference.

4. Any installation question, we will provide the connection diagram or installation video for your reference.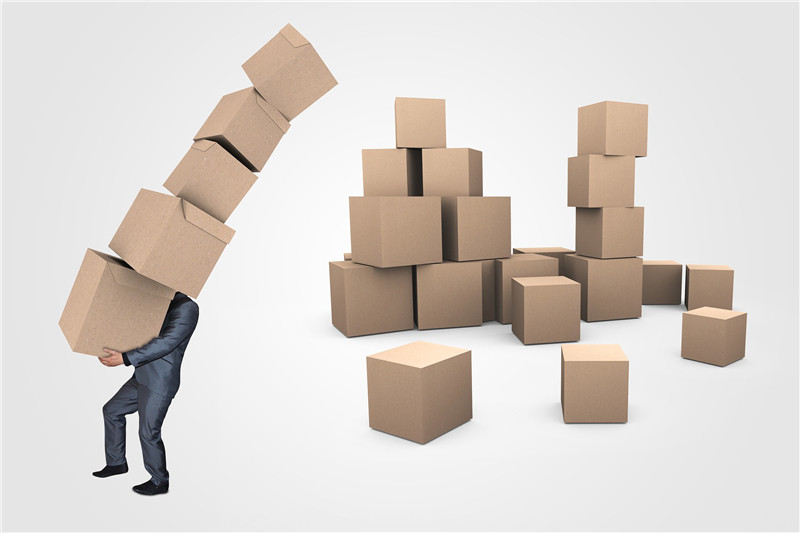 1.
We have stocks of hot-selling models, such as 3 inch, 4 inch pump with plastic or stainless steel impeller.
2. If you become our long-term stable distributor, we will prepare your own brand of MPPT controller stock for you.